What Is Personalisation?
Hyper Personalisation is the practice of tailoring a program or a product to suit the needs of particular people, often in categories or segments. Personalisation is used by a wide range of companies to enhance customer loyalty, digital sales conversions, campaign results, branding, and website analytics, as well as for ads.
Personalisation is a beneficial investment in improving consumer interactions. Holding this in mind will ensure that you are offering real value to their consumers. Increased revenue is an unforeseen result of this practice.
The use of data to provide more customised and tailored goods, resources, and content is known as hyper-personalisation. Organisations will use omnichannel data to construct customised consumer interactions in real-time through hyper-personalisation. Customers nowadays use at least two digital technologies such as mobile  phones, tablets, or other mobile tech devices. These devices assist companies in collecting a variety of knowledge about their consumers' habits and internet preferences. To achieve hyper-personalisation, it's important to use this data to build customised consumer interactions during the buyer's journey.
Since every consumer is a person with unique desires and preferences for the goods and services they want to purchase, businesses must concentrate on driving one-to-one communications with them. Customer satisfaction will be improved as a result of hyper-personalisation, which will enable personalised contact and more positive experiences with consumers.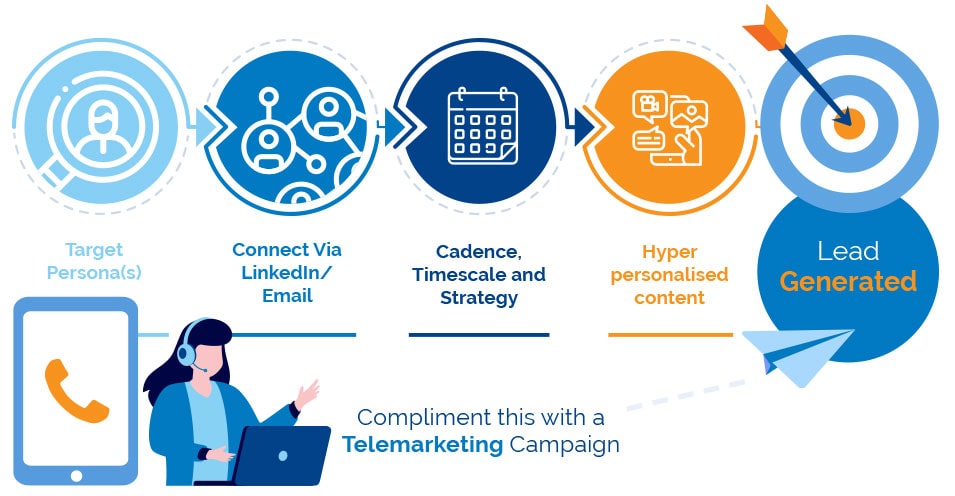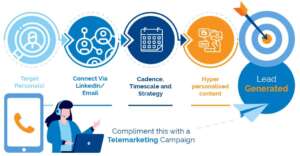 Traditional personalisation is a form of hyper-personalisation. Hyper-personalisation shows specially selected content, goods, and services to your consumers with a high degree of precision, at scale, and sometimes in an automated manner, using real-time data.
The primary objective is to treat each website user as an entity, sending them personalised and contextual messages. Establishing a custom plan necessitates a thorough understanding of the company's goods and customers, as well as the necessary data, technology, and resources for implementation.
1). Agree your target persona
2). Use LinkedIn to connect with and warm-up
3). Do so in a friendly, conversational based approach
4). Do not go too salesy too quick, we want their connect first and not scare them off
5). Send hyper-personalised messages and images to your target audience
6). Once warmed up have a call to action (i.e. Calendly link, when you free)
7). If not responded then use the email channel to engage further
8) This can be a new email address for you or an additional email address acting as your Business Development team
9). Strong Call to Actions throughout – idea being we are prompting your prospects to book an appointment in your diary by themselves!
10). Compliment with the telemarketing
Need For Hyper Personalisation
Customers are more educated and knowledgeable than ever before, and they don't want cookie-cutter goods or services. They trust advertisers to deliver the correct message at the right time without violating their online privacy. If a business delivers the same message to a vast number of consumers, the company gets little or no publicity.
Hyper personalisation involves delivering a superior consumer environment by serving related content or targeting key themes in the pipeline depending on the consumers' e-commerce habits and actions. Businesses may use targeted marketing to develop personal connections with their customers during their online journey, nurture leads, and boost revenue through digital marketing.
It's about maximising your Return on Investment. Keeping your pipeline constantly topped up, trying to avoid the 'feast and famine' or the 'wait for a bus then two come along at once' sometimes experienced with traditional outbound lead generation marketing.
Hyper Personalisation will make you more successful. Everything we do at The Lead Generation Company is about making you more successful. That justifies our existence, we are aware of this on a daily basis and will do everything we can to help you be more successful. Meaning, for you, more results, better results and more sustained results.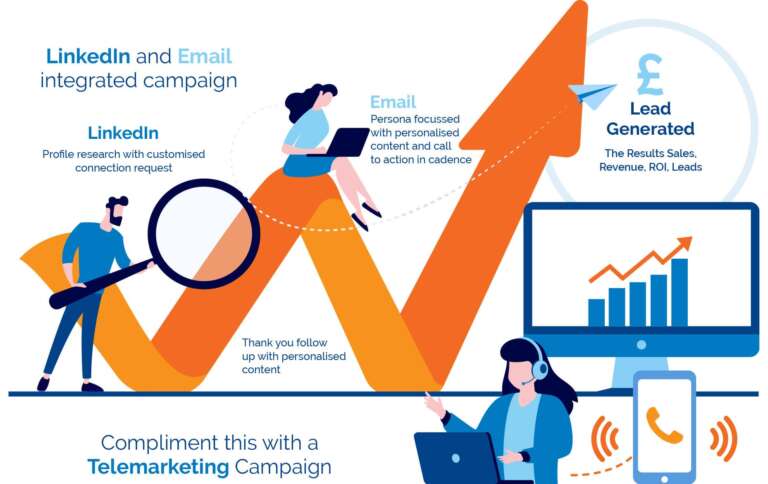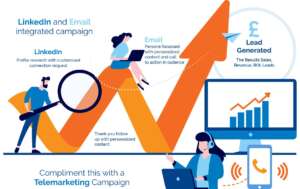 Benefits Of Personalisation
Increases Revenue
Personalisation has been shown to improve conversion rates. As Co-operative Travel implemented personalisation on its website after its joint venture switchover in 2011, it saw a 95 per cent rise in visitors and a 217 per cent increase in sales.
Similarly, BMW made $500,000 by personalising MMS messages for 1,200 customers in the United States, raising conversions by 30%.
Improves Customer Loyalty
Improving conversions is one thing; increasing recurrent conversions, support, and retention is quite another. According to Econsultancy's study, one of the most significant factors in promoting repeat purchases is post-purchase loyalty programs that provide personalised deals.
This comes as no surprise. Personalisation encourages and is based entirely on interaction and trust, two aspects that personalisation both promotes and implies.
Makes Marketing Beneficial
There is an abundance of information, goods, and services available. Companies have a clear chance to provide much-needed usefulness in an exceedingly noisy environment of choices by delivering a personalised interaction especially one that is predictive rather than responsive.
The bulk of marketers are well-versed in the advantages of personalisation. They understand that personalisation on-site – and at all other brand points of contact – improves the consumer experience and that even good ads can be improved with a personal presence.
Eliminates Obstacles
It removes roadblocks in the sales funnel that can make consumers' shopping experience more difficult, reducing the amount of effort required to get what they want.
While personalisation can seem flashy at first, there is no doubt that when done well, it assists customers in navigating a noisy environment is an important, beneficial, and, eventually, profitable manner.
Prevents Customers Being Overwhelmed 
It stops consumers from being confused by a large number of options. When consumers are confused by product options, 39% of them buy goods from competitors . Hyper-personalisation can minimize option saturation by only presenting products that are important to the consumer, based on product recommendation algorithms in many cases.
Keep Prospects Attention
It can be a successful way for your brand to quickly capture and hold the interest of consumers by recognising their specific problems and saving them time by delivering the right solutions. When sending personalised messages it makes the customer feel wanted and valued. The customer can feel like they are being taken away from the business and selling aspect to a more informal interaction.
The Science Behind Hyper Personalisation
>>> 2,200%+ rise in LinkedIn usage since the Pandemic in March 2020
>>> 87% of marketers have seen an increase in email engagement in the last 12 months
>>> 90% of the information transmitted to the brain is visual
>>> The human brain processes images 60,000 times faster than plain text
>>> A picture (and a gif) really does paint a 1,000 words


What Makes Personalisation Stand Out?
Real-Time Messaging
You're probably not personalising if you're not personalising in real-time. Your company should be able to respond in a split second, as though you were speaking to a consumer's face to face, thanks to personalisation. You'll need personalisation systems that can recognise, respond to, and optimize consumer experiences in real-time to get this right. This allows us to send the right message, content, or knowledge to the right person at the right time. This is where The Lead Generation comes in, we will submit personalised messages and content on your behalf to engage with the prospect.
Behavioural Patterns
Evaluate how people act and what this tells you about what could influence them instead of approaching people based on demographic personas. Age, gender, and marital status are all variables in demographic personas. These characteristics are static, and they may or may not affect how or why people buy. Personas based on behaviour are more complex and substantial. They inform you about who does what, when they do it, and why they do it. As part of our Hyper Personalisation on behalf of you, we will evaluate prospects and tailor content that will entice them. Knowing this will help you find out what would inspire them to convert. This helps you to create conversion strategies for each persona based on their actions.
Relevant Content
To personalise in a meaningful way, you must first comprehend the context of your goods and how it applies to your customers' context. As part of Hyper Personalisation, we ensure that the content we create is relevant and customised giving the best possible chance of the prospect engaging and then eventually converting.
Conclusion
Hyper Personalisation is an excellent service that will enable you to stand out from the crowd with personalised messaging and content. This is an outreach method but is used in a way that is different from traditional outreach and allows for you to get noticed and receive a positive response. The approach starts with profile research with a customised connection request on LinkedIn followed by a thank you follow 
up with personalised content. Afterwards, an email will then be sent with a persona focussed with personalised content and call to action in cadence and then the ball is in the prospects court to follow up and convert.
If Hyper Personalisation is something you feel could benefit your business then don't hesitate to get in touch today to find out more!