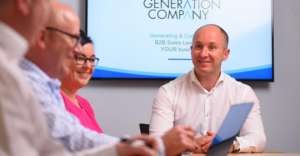 A Statement from Our Managing Director
Yes, it's bonkers out there. But we need to stay positive. We need to work day by day but we also need to plan ahead and cover all bases.
As a business I am delighted (and in many ways grateful) to say we are fully operational, working remotely and it's business as usual in an unusual world. This was only achieved and is currently being achieved through an outstanding group of colleagues who blow me away every moment at how positive they are keeping and how focussed they are on delivering client value. Adapting quickly and safely all whilst maintaining the highest standards. Every single one has stepped up to the plate and smashed it out of the park.
Whether you are currently shut down, trading through it or absolutely booming, now is the time we all need to have foresight. Acquiring foresight is easier said than done. Why? Because no one really knows WHAT or HOW soon normality will return but what we do know is IT WILL HAPPEN and with the passing of each day, we are getting closer to recovery. When it happens we all need to be ready.
So what does this actually mean? It means we all need to have plans in place. We need to anticipate what might and what might not happen. It boils down to the perennial business adage: hope for the best and plan for the worst but this time it is different. It is hope for the best and plan for the best, THEN plan for the worst but also plan for the middle ground. 
Some might say it's 'good old scenario planning' and it is. Even in times like these, the basics of business remain the same. In fact, now more than ever, detaching from the inevitable noise and emotion that surround us, planning and preparation are key. But I truly believe it will be those companies who are investing and doing things now that will accelerate out of this quicker than others – those who are still investing in lead generation, those who accept a video call is as good as a face to face meeting in the first instance, those who accept that spending their time building connections and relationships will mean more sales in the future. These are the ones that will win. These are the ones that will come out with a stronger and healthier sales pipeline and overall business. It's about staying visible, remaining connected, and crucially building and maintaining momentum. But it needs to be done with sensitivity, empathy & compassion.
That's why as a business we are currently doubling our efforts on all of our outbound and inbound sales & marketing activity. Traditional B2B telemarketing & appointment setting. Investing in building more target databases. More email campaigns. More content. More work on LinkedIn finding likeminded people and communicating with them. More PPC adverts. More digital marketing activity. 
If you build it, they will come. Guaranteed.
Best of luck,
Steven.
Managing Director
The Lead Generation Company
If you would like to find out how our B2B Telemarketing and Lead Generation expertise can enhance your sales growth in the current climate please get in touch.
To know more about our products and services, contact us today on 0333 344 347 or email: info@theleadgenerationcompany.co.uk