Email Marketing
People use a variety of means to remain engaged in the digital world, which has become the major platform for communication. Brands are going 'always on', and the environment is more aggressive than it has ever been. By incorporating email marketing into your B2B marketing plan, your company will be able to send personalised messages to critical touchpoints. Whereas B2B telemarketing focuses on quality and precise targeting, email marketing complements this by immediately reaching a larger audience.
Did you know that mobile users check their email 3x more than desktop users on a daily basis, according to Google? Or that 70% of people use a mobile app to check their email? Given these figures, it's easy to see why addressing customers on their mobile devices, as well as making sure your emails are mobile-friendly, is so important. Consider how much simpler it is for somebody lounging at home while doing things like online shopping, reading emails, and checking social media on their phone rather than on their computer. Keep in mind the move away from actual remote controllers as well. With the development of streaming service applications, people are utilising remotes less frequently. This implies more hours spent on phones and a greater emphasis on being top-of-inbox so that your email is viewed during one of three daily inbox visits. Mobile device optimisation is very crucial. You will succeed or fail within 3 seconds of someone reading your email and evaluating whether it is a decent mobile experience. You might have the most fascinating material, but if the reader determines that the mobile experience isn't up to par, your email is doomed. Worse yet, the user may unsubscribe or report your email as spam.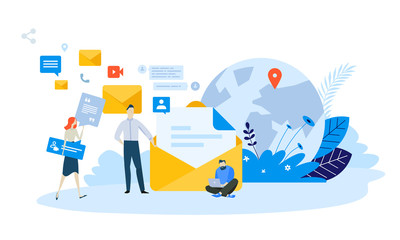 Why Email Marketing?
Email Marketing Is Cost-Effective
Email marketing has several advantages for your company. This is a cost-effective strategy that, when done right, delivers a great return on investment, according to 73 % of marketing experts polled by Marketing Week. With such a large audience, your company can easily use email marketing to communicate with new customers. This strategy's potential allows your brand to engage with broad audiences and keep your stakeholders informed for a fraction of the cost of traditional marketing.
Preparation
Preparation and effort are required to create a powerful and successful email marketing strategy. It's critical that you understand who you're trying to reach. Research their buyer path, motives, purchase behaviours, content interests, and preferred messaging – PPC, B2B telemarketing, etc. Be proactive in finding and studying them carefully. By understanding your target audience's pain issues and wish list, you can improve the chances of your campaign delivering more relevant interactions, which may lead to qualifying appointment scheduling and B2B sales.
Content
Our time spent in our house and reading emails has risen, while competition has diminished in many respects. As a response, we're seeing open rates of over 50%, and our B2B telemarketing and lead generation team is providing real-time feedback from campaigns, which is driving our email campaign plans. Your email marketing can generate interaction and, as a result, enhance conversions in the shape of new business requests by guiding digital strategy. Prospects' appetite for personalised material has grown as their circumstances have changed; they want to understand how your service might help them. The ability to communicate how your business can assist can lead to significant boosts in lead generation. It's critical to your campaign's success that you provide a user-friendly experience. You'll encourage participation from prospective clients with intriguing and engaging material, and it's critical that the path to their destination goes smoothly. The user experience of your targets does not end with your email campaign. An email that entices your audience's interest in your brand will prompt them to deliberately seek more information, leading them to your social media profiles and website. As a result, a strong online presence is required for prospects to be happy, resulting in the growth of your sales pipeline.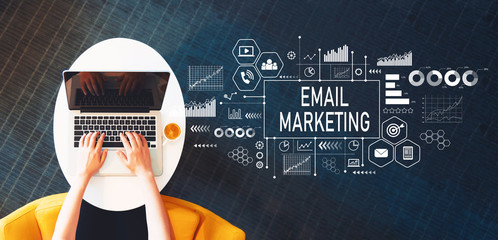 Benefits Of Email Marketing
Provide Relevant Messaging
Most marketers would gladly pay to ensure that their money was only going to those who had shown interest in their business. However, email marketers may take it a step further by delivering emails just to users who satisfy particular criteria. Brands that want to learn more about their customers might use email list segmentation to their advantage. According to research, marketers that employ this strategy have higher engagement rates as a consequence. The old strategy of sending the very same email to every user or client is no longer effective, and firms that get the greatest outcomes from email marketing segment their data and campaigns to guarantee that they're delivering the most appropriate message to each person.
Email Marketing Is Simple To Analyse
Another significant advantage of email marketing is the ease with which you can discover where you're doing wrong. Most email marketing tools lets you measure open, click-through, and conversion rates, making it easy to see where a campaign can be enhanced. These modifications may also be changed quickly, whereas changing print or broadcast advertising takes a lot of time and work.
Results Can Be Quick With Email Marketing
Due to the urgency of email, a company can notice benefits within minutes after sending an email. A 24-hour sale is an excellent email marketing strategy because it generates a clear call to action and persuades recipients to act right away. Businesses must often wait weeks for purchases to come in as a consequence of print or broadcast advertising, but even still,  they can't be certain what caused the sale?

Why LinkedIn Advertising?
LinkedIn is a professional social networking site that provides a number of services to its users. Professionals may interact with each other on a worldwide scale with LinkedIn. You can improve the overall performance of your campaign by using LinkedIn as a marketing technique. Incorporating LinkedIn into your B2B marketing strategy can benefit your telemarketing operations in a variety of ways, including increasing your brand's visibility among target groups and establishing B2B partnerships.
Reach
LinkedIn provides a wealth of opportunities for marketers to connect with their intended audience and communicate with key decision-makers. This social network enables advertisers to target ads based on job titles, sectors, company size, educational status, location, and other factors. After you've identified your target demographic, LinkedIn allows you to take it a step further by building lookalike audiences. This establishes a goal of locating new customers who are most similar to your main converting audiences; normally, this is a major role in B2B lead generation success.
Network
A LinkedIn campaign's goal is to create recognition, which will lead to appointment setting and consistent B2B lead generation. You may immediately draw the attention of decision-makers with LinkedIn's specific targeting choices. LinkedIn offers numerous ways to raise awareness of the brand within your target demographic, in addition to precisely focused adverts. While the goal of your B2B telemarketing campaign is to contact key decision-makers, we recommend that you use LinkedIn to engage with people in your industry/sector. By doing so, you establish trust because your new connection will study your brand, possibly discovering mutual connections, and construct a fuller image of your profile throughout the initial dialogue. We suggest using personalised connection requests with specific messages to improve your response rates – (make sure these are not too salesy). This customisation reveals your enthusiasm in their brand and the significance of the connection – (cutting the likelihood of your approach being ignored or denied) – laying the groundwork for deeper connections as a result of encouraged conversation.
Presence
Your company's LinkedIn page, as well as your employees' LinkedIn accounts, should reflect your company's personality and successfully showcase its leadership in the industry. There are several strategies to successfully position your brand in the market. By being engaged and offering material that reflects your brand's technical expertise on issues such as the business, marketplace, and services, you can exhibit your brand's expert understanding of these areas. This portrays your brand as competent and educated, which eventually aids the success of your B2B telemarketing campaign by encouraging qualified appointment setting. To build a powerful LinkedIn presence that will aid your B2B telemarketing, your company must communicate with others. This may entail joining industry-related groups or connecting with content shared by others through likes, comments, and other means. These interactions demonstrate that your brand is active and well, contributing to brand reputation and campaign success.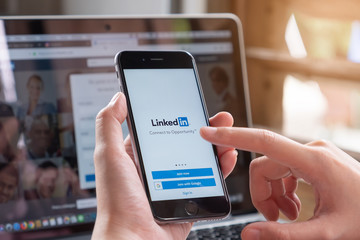 Benefits Of LinkedIn Advertising
One of the most important advantages LinkedIn provides B2B companies is the ability to create high-quality leads. It's more vital in B2B to reach the right decision makers, therefore organisations need to figure out where their decision makers spend their time online. LinkedIn users are encircled by professional material and news, making them more inclined to look for services and solutions that might benefit their company. Professionals, on the other hand, will pay attention to important adverts that may provide an answer to some of their difficulties.
LinkedIn's Targeting Options
The best social media platform for advertising is one that ensures your business information gets to your target demographic. The targeting possibilities on each network varies; for example, Facebook prides itself on its interest and behaviour patterns elements, whereas LinkedIn is the best site for targeting people based on their industry-specific characteristics. The following is a list of ways LinkedIn lets you target your adverts depending on variables:
Industry

Company Name 

Company Size

Job Title 

Job Function 

Seniority 

Degree Type 

Skills
LinkedIn advertising is the best platform for companies who want to target B2B clients and get their brand in front of decision-makers thanks to these specialised targeting possibilities.
Conclusion
Email marketing provides your company with practical ways to raise brand awareness and boost lead generation. Our company uses email marketing as a tool to increase brand awareness across a wide spectrum of potential customers. Since consumers are already acquainted with our brand, this initial link generates better replies to our B2B telemarketing efforts. We've found that incorporating email marketing into the beginning of our campaigns yields better overall campaign outcomes because it's cost-effective and easier to track. Your brand must be visible in order to fully utilise LinkedIn. This social media platform gives your company a lot of chances to make connections and build relationships, which will help your B2B telemarketing campaign by boosting appointment setup. Warming up your targets on LinkedIn before calling them for your B2B telemarketing campaign increases brand recognition and impressions, resulting in a higher response to your B2B telemarketing campaign. As a result, your campaign's outcomes will improve. 
The Lead Generation Company
To know more about how email marketing and LinkedIn outreach and advertising can help your business along with information about our products and services, contact us today on 0333 344 3470, email:
info@theleadgenerationcompany.co.uk