Many businesses' top concerns moving into 2021 are finding new clients and making sure their sales funnels are full of qualified leads. Of course, certain industries have experienced a spectacular rise in demand and have never had it better. Despite operating in such markets,  competition is likely to ramp up, so having a prepared sales pipeline and a keen understanding of possible sales possibilities can help you optimise your market share while circumstances are favourable. In today's blog we are going to discuss whether you can see your sales grow in the current climate.
Since COVID-19 knocked many to their  knees, the emphasis is on reclaiming revenue sources that have been lost. Sales reps and managers are working with tight deadlines and small resources and funds. With industries still shaky and the future unclear, businesses are understandably cautious to put their money where their mouth is when it comes to sales and marketing. This causes an evident contradiction since the goals established may not be attainable with the given resources. Furthermore, if your company strategy relies largely on field sales and your talents do not convert to inside sales representatives things may be much more difficult.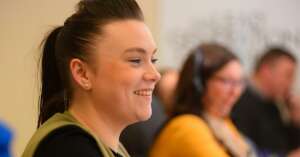 When circumstances are difficult, the most successful businesses search for fresh opportunities. While other business owners and salespeople are busy tightening their budgets, lowering expenses, raising discounts, and accepting reduced sales income, opportunity awaits those who respond. When others have momentarily ceased prospecting, it is critical to keep going. The majority of businesses (including your competitors) will be doing less and may not have seen there sales grow. They will discontinue marketing, soliciting, and discounting. Some people are afraid of offending and losing current clients if they contact them for additional business. This is a fantastic point in time to develop your pipeline, gain new business, and grow your market because of how most businesses will react to the economic crisis. Working smarter, rather than harder, is the secret to thriving through challenging circumstances.
How To Reclaim Sales
Make Sales The Priority
What changes have you seen in your business as a result of the pandemic? Have you changed the way your sales team goes to market to accommodate new priorities? Most business planning models either neglect or simply touch the sales function in passing, instead concentrating on industries, goods and skills, campaigns, and so on. In a healthy economy, this could have been a successful method, but in a tough circumstance, look to your sales process to win business. 
To see your sales grow provide sales the resources it needs to be successful by defining your target customer profile, outlining the precise reasons customers will pick you over the competition, and being clear on the challenges that will most likely influence client selections. For the most part, the crisis has resulted in less business to be gained. Yet, as a method of increasing revenue, margin, or market share, this provides a chance to reconsider not only what you're selling, but also how you're selling it.
Reconsider Customer Needs To See Sales Grow
Even if the economy has contracted as a result of the pandemic, there are still fresh prospects and you can see your sales grow. Covid-19 has influenced people's lifestyles, resulting in new markets and sales opportunities. What additional client requirements can your company meet? This is a chance to discover the difficulties that are generating or limiting the usage of your goods, identify what new challenges you might be able to assist consumers with, and develop a strategy to benefit from and modify your offers.

To learn more about your clients' shifting demands, look to your sales team as a feedback mechanism. They are the ones speaking with customers and are ideally equipped to assist you in determining what consumers want now and aren't receiving, as well as, perhaps more significantly, what they are receiving from competitors. As business adjusts to long-term Covid-inflicted challenges, using that knowledge may be a key differentiator, not just for increasing revenue, but also for guiding strategic growth choices on new product and service bundles, the improvement of your production process, and much more.
Tap Into New Industries
One of the highlights of 2020 will be the creativity and invention of businesses seeking to salvage what they can from a tough year. Some of the companies that struggled were those that catered to a certain market or had a small number of clients. Your plan for 2021 should prepare your company for the long term future and see sales grow. It's usually difficult to switch to a new market. Unless you're a large corporation with big funds, the road ahead can be treacherous. Disruptors, on the other hand, are constantly entering marketplaces.
Enhance The Sales Experience For Customers To See Sales Grow
Many companies reacted to the Covid-19 problem by shifting sales encounters to videoconferencing like zoom or google meets. However, the longer-term potential is to reimagine how to utilise these systems to enhance, rather than just maintain, the sales experience by generating value and difference with prospects and clients to make the entire process more attractive. Explore innovative ways to assist consumers in detecting challenges and identifying possibilities they hadn't explored before. With video and phone, including specialists, installation or customer service employees, and other departments sooner in the sales process to give better knowledge and more insight is simpler than ever. Involving senior managers with consumers to fix problems and offer personal relationships and senior involvement is also simpler with videoconferencing.
It's necessary to reconsider how your sales experience can produce value to prospective clients as a key component of your approach due to the challenging year and a half everyone has been through. Develop a sales experience that allows customers to learn about the opportunities that are available. 

Seeing Sales Grow In Challenging Times
Speak To Customers To See Sales Grow
Concentrate on listening, encouraging, recommending, and agreeing on a course of action. If your clients work from home, a chat with someone who knows their environment has market expertise and intelligence, and a perspective on what is going on in it right now would be welcomed. Use video meetings instead of phone calls to engage your consumers on a more personal level. Following up with prospects and perseverance are key to success: successful businesses understand that patience and follow-up are key to gaining new business. Your customer/prospect may not react to your calls and emails right away if money is tight with their business and they are under pressure in other ways.
All follow-up actions require gentle perseverance. Maintaining your relationship with key clients and prospects should be your first priority, and you can rest assured that the benefits will come. Regular emails and phone calls, email meeting recaps and next steps, bids and quotation follow-ups, or shipments and after-sales assistance are all examples of this.
Concentrate On Your Vital Revenues First
Begin by thoroughly identifying your target markets and clients. Prioritize your market, consumer, or target base segments. It's crucial to avoid squandering valuable sales time and resources on the incorrect clients and prospects. Take advantage of the chance to gain trust and momentum with existing clients. Do this, for example, by intentionally expanding contact with existing customers to talk to, interact with, and assist them, resulting in increased loyalty. You are more likely to retain important existing clients and promote on-selling of related services if you practice proactive customer management by understanding their concerns (major threats/problems/opportunities) and proposing solutions or alternatives.

Remain Focused On Competition To See Sales Grow
Even in emerging economies like ours, competition will exist in some way or another and it is important to stay on top of it to see your sales grow. It is critical that you keep a closer eye out for any emerging companies in your domain, since they may develop so quickly that they overrun you. Don't get carried away; it's naïve to think that your market share will be protected if you can't stay ahead of the curve. With a variety of businesses to select from, acquiring clients will need more and more work as time goes on. The more you know about your competitor, the more prepared you'll be to compete with them. It is important to carry out tasks like competitor analysis to find out valuable insights into your competitor that you can then use to your advantage. A competitor analysis will allow you to assess what works well in the industry and what doesn't work. Accept that your approach may not always be the right method, and be willing to change. Likewise, keep an eye out for their blunders and try not to repeat them.
Do Not Forget About Data
Don't undervalue the importance of analysing data in your company; it may offer you with important insights that you won't discover anyplace else. Creating a data platform that is updated on a regular basis can highlight patterns and forecasts that may help you seize opportunities or prepare for adversity. You can make educated judgments and depend on data-driven proof rather than pure speculation if you get comfortable with the information you're documenting. By analysing data it enables you to prepare for what might be to come and identify opportunities to capitalise on.
How Can Data Help Your Sales Grow?
The backbone of today's corporate world is data. Every day, businesses come into contact with data on customers, suppliers, security, and even staff. A large number of businesses are still having trouble selecting the appropriate data from which to get their findings. Fortunately, organisations who can use their data properly will be able to tap into the potential of data analytics. When implemented correctly, data can be a catalyst for change in your company, revealing possibilities and highlighting problems. This has an impact on how you gather and evaluate data. Here's a couple reasons how data can help grow your business:
Data Improves Your Customer Journey
Data is essential for seeing your sales grow while discovering and characterising your target audience's specific problems in the first place. It may help you connect your product and service requirements with what the market needs when utilised to develop a buyer persona. Data analytics may, in effect, uncover fresh and innovative prospects in your sector that are right in front of your eyes. By collecting client feedback, you can not only make your business more dependable and accessible for them, but also grow your market share. To figure out what your company needs to develop, you should focus on internet reviews and client comments.

Allows You To Have An Advantage Against Your Competitors
To see your sales grow it is important to gain a competitive edge on your competitors. In the corporate sector, price competition may arise rapidly. One company tries to drive another out of business by lowering its prices, only for the competitors to do the same. However, this antiquated type of rivalry frequently results in one firm dying and the other barely surviving. Without adopting such a strategy, data can help you stay current and gain a competitive advantage. It can help you figure out who your competitors are targeting, who they aren't, and how to outwit them. The deeper you know your competitors, the more effective your market dominance techniques will be. You can find gaps in the present industry and give way to innovative ideas if you put enough attention on data. When it comes to staying competitive, data can assist distinguish hype from sensible expenditures by calculating ROI and finding patterns.
If you would like to find out how our expertise can enhance your sales growth in the current climate, get in contact today. To learn more about B2B lead generation support – get in touch.
To know more about our products and services, contact us today on 0333 344 3470, email:
info@theleadgenerationcompany.co.uk