Pension Claim Specialists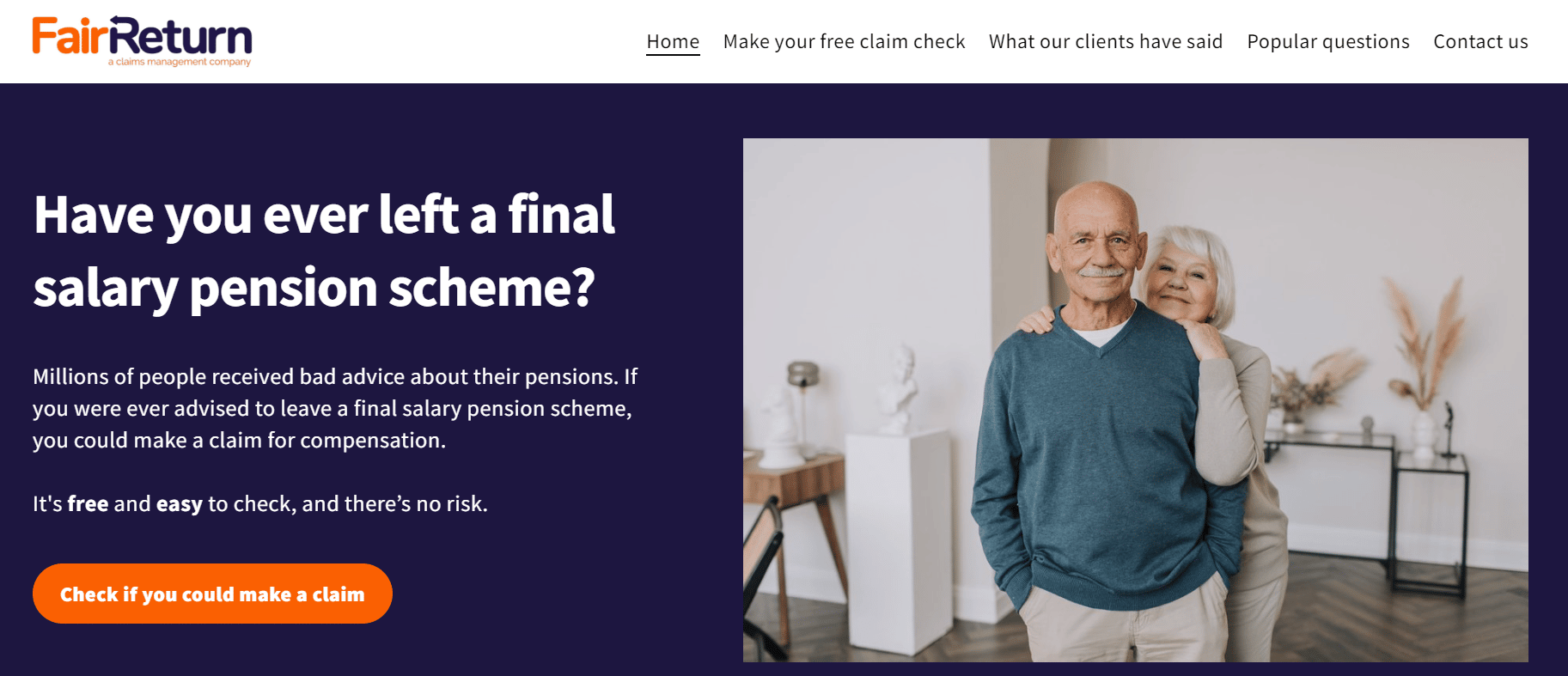 Fair Return are a claims management company who are pension claim experts. If an individual has received advice to leave a work pension scheme any time since the 1980s, Fair Return can check for free if they could make a claim. If there is basis for a claim, they can submit it on the person's behalf or the individual can submit a claim themselves. If Fair Return submit a claim for an individual, and win, they will charge a fee, but if the claim isn't successful, then there's no fee.
If you were ever advised to leave a final salary pension scheme, Fair Return can make a claim for compensation on your behalf. Fair Return helps people receive the compensation they are entitled to. It's free and easy for them to check if you are eligible to make a claim, and there's no risk.
Fair Return are in a highly competitive marketplace. Fair Return's cost per lead from their social media ads was getting considerably higher every day, and as a result they were being forced to increase their daily ad spend. Fair Return wanted to decrease their average cost per lead, and also generate more enquiries through their website as it was rare for them to have people enquire through their site.
Fair Return had used social media advertising for some time with considerable success in terms of the quantity of leads they were generating. However, they started noticing the quality of their leads was decreasing considerably while the cost per lead was rising dramatically. They reached out to our digital team to try and lower their cost per lead while improving the quality of the leads their social ads were generating.
Fair Return had recently built a new website, but they weren't seeing many enquiries through their website. They asked us if there was any way we could increase the number of leads they got through their website from organic and paid traffic in addition to the social media ads.
The Lead Generation Company Solution
We provided Fair Return with a Facebook/Instagram ads campaign with a carefully segmented audience which decreased their cost per lead by 75%. This was achieved through professional graphic creation alongside an efficiently segmented target audience.
Alongside the social ads campaign we launched a Google/Microsoft text ads campaign which resulted in Fair Return receiving high quality leads through their website. One week, Fair Return received 10 leads through the website directly from their PPC activities, which was a drastic increase on the amount they received prior to working with our digital team at TLGC.
Campaign Results
Since the start of our campaigns with Fair Return in June 2021, we have successfully achieved:
Over


1,300


Leads Generated for Fair Return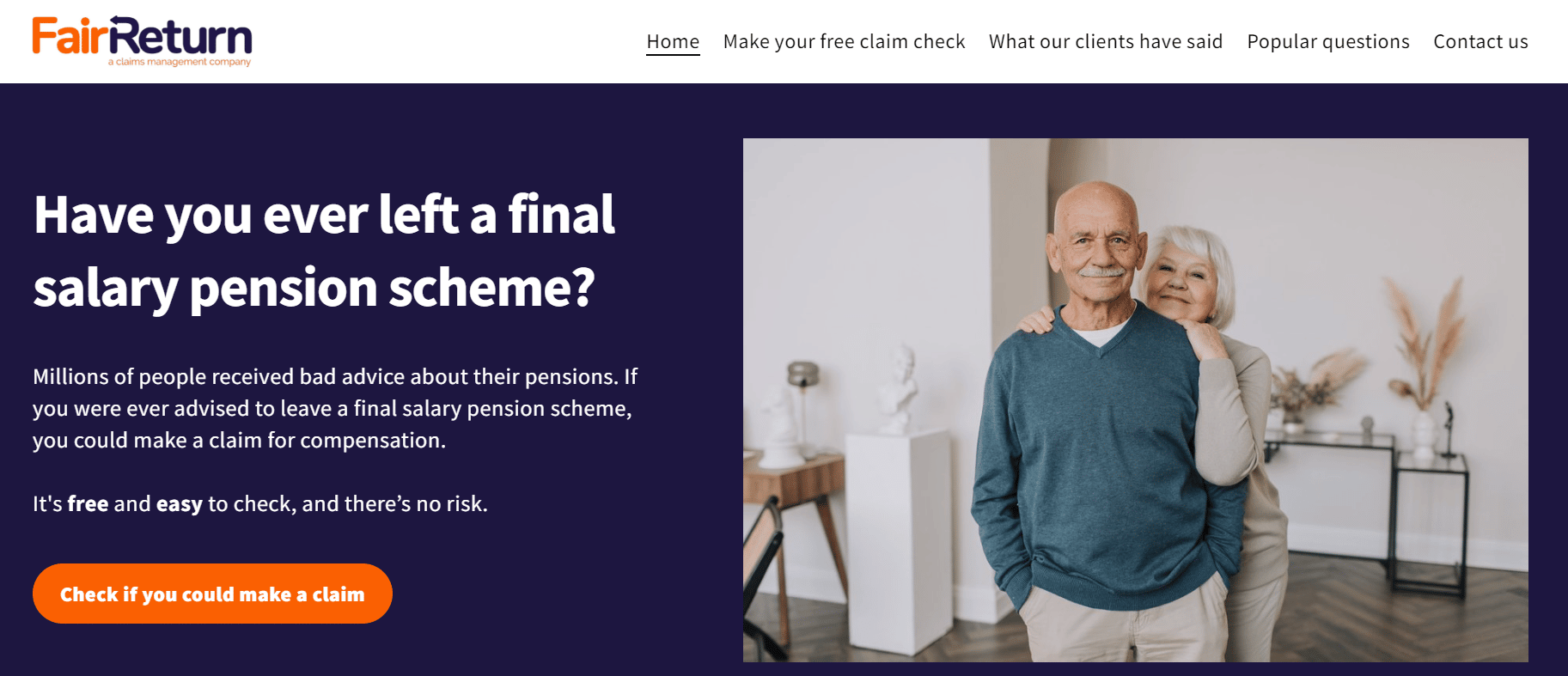 What the client said…
It has been an absolute pleasure working with Liam and the rest of the team at TLGC. They found the right audience for our ads and helped us reach our targets. I would not hesitate to use them again in the future.
Stephanie Leather
Director
Fair Return
What our digital marketing manager said…
Fair Return were the perfect example of a client working alongside our team in order to achieve a successful campaign. Through our weekly catch ups with Stephanie, we were able to brainstorm new ideas and try new things regularly in order to ensure the audience segmentation was performing as efficiently as possible. It has been a pleasure working with Stephanie & all at Fair Return.
Liam Glancy
Digital Marketing Manager
The Lead Generation Company

Conclusion
It was a pleasure for our digital team to work closely with the team at Fair Return and provide them with a successful campaign. We enjoyed an excellent working relationship with Stephanie and her team, where our digital team were viewed as an extension of their internal team. We are delighted to have achieved Fair Return's goals and objectives when they began working with us.
If you are looking for a lead generation partner to help you smash your sales, our talented staff will be the perfect fit for you. At the Lead Generation Company, we have a highly skilled team of B2B telemarketers who live and breathe great sales.
With an average of 11 years Lead Generation experience, we have the necessary life experience to talk to our leads in an authoritative and professional manner, and we use structured conversations instead of scripts so we are extremely responsive and agile in responding to your prospects' needs. Get in touch with us today to find out how we can help your business!