TLGC'S Marketing Spotlight: April 2022
Ever wondered how many pairs of Specsavers glasses you could get for tens of billions of dollars? No? Same! 
It's been a busy month in the world of marketing, so let's take a look at the stories that caught our eye, each of them (Elon Musk buying Twitter for $44 billion and Greggs opening a new shop) is quite equal, we'd say, in impact.
Tesco Mobile: Trolley Tale
Ever seen a supermarket trolley many miles from the nearest branch? Assumed it'd been stolen, taken for a joyride, and abandoned? You're probably not far off. 
Just kidding, they're sentient. At least, that's the implication, of Tesco Mobile's latest nationwide campaign. To bring attention to their branding as a mobile network that's actually helpful, the advert follows a Tesco Mobile trolley on a heroic quest to save a competitor customer from a mid-contract price hike. 

The agency behind the ad was BBH London. Uche Ezugwu, Creative Director at BBH, said the goal of the ad was to highlight Tesco Mobile as the underdog in the 'noisy world of telecoms'.

It's a very effective ad, and at the risk of getting sentimental, Tesco Advert Trolley is quite literally the hero of our time. 
Burger King: Home Delivery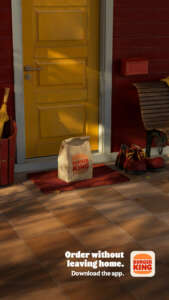 Congratulations! Your home can now be the home of the Whopper. You are Burger King. 
This month's Burger King ad for their app's delivery service lets customers know that anyone, anywhere (within range of a Burger King, anyway) can get their hands on a Whopper. Hence, 'Every home can be the Home of the Whopper!' Their fairly subtle digs at rivals are a very nice touch.
It's not uncommon for brands to put a fresh spin on classic slogans. Just recently we highlighted Cadbury's revitalization of their 'How do you eat yours?' tagline with 'How do you not eat yours?'; the implication being that their limited-edition golden creme eggs, despite being worth actual money, were too good not to eat.
Greggs: 'The North is Taking Over London'
Following months of speculation, it was confirmed this month that Greggs will be opening a flagship shop in central London, right by M&M's World. How did they reveal this? A giant steak bake, emerging from a Greggs bag, that spans the length of the soon-to-be shop. 
Fans have since been joking that 'the north is taking over London'. The new location should do wonders for the chain's reach. 
Hopefully, they'll pay homage to this stunt once the shop launches with a limited edition steak bake that matches the size of the one in the sneak peek. We'll go out on a limb and say that's… very likely.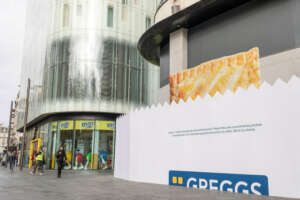 Elon Musk Just Straight Up Buys Twitter
Is it too late to tell him that Twitter is free? And yes, we're certain we're the first (millionth) to make that joke.
Speculation has been rampant ever since it was confirmed that Elon Musk, known for such hit tweets as 'thinking of quitting my jobs & becoming an influencer full-time wdyt', would be buying the social media giant. 
Musk is adamant that one of his main goals will be to relax content restrictions and crack down on user bans, which has led some to speculate as to whether Donald Trump (known for such hit tweets as 'Everyone should calm down. @BenAffleck is going to do a great job as Batman.') would return to the platform as a result. Trump claims he'll stay away, but we'll just have to wait and see.
Musk's buyout is quite the hefty sum ($44bn), and many brands have taken this opportunity to joke about how many of their most popular products Musk could have bought instead.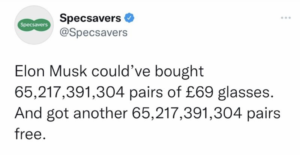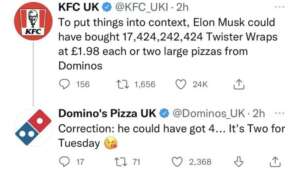 Twitter founder Jack Dorsey stated that Musk was "the only singular solution I trust". Could he be a little biased? We couldn't possibly $ay.