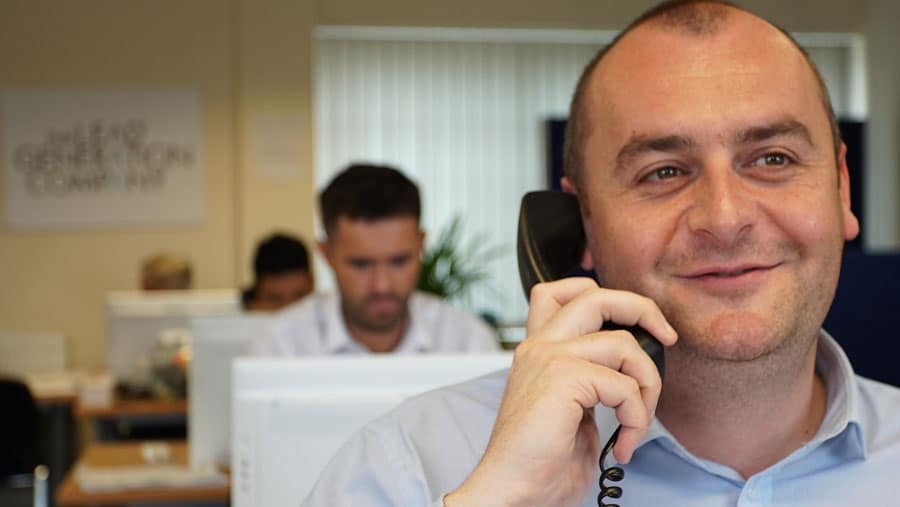 Meet one of our team: Jonathan
How much do you like telemarketing and lead generation?
I enjoy the variety of client challenges, the unpredictability and the satisfaction of knowing I've genuinely helped solve a business problem. I'm very fortunate to have followed a career that matches my personality. In this industry you have to enjoy conversation. To succeed, you must be adept not only at understanding people's needs, but at having the self-discipline to truly listen and think on your feet. Telemarketing allows me to put all these skills into action as well as have a bit of fun along the way.
Why The Lead Generation Company?
That's simple – trust. I'm trusted to do a good job and bring my best to work every day. Our clients can trust us to deliver on our promises of great service and a bespoke, transparent approach. And I trust the company to value its people as well as its clients – both are essential to good business development and The Lead Generation Company really understands that. Never underestimate the power of good people and a good working dynamic in the office. We all spend such a large proportion of our lives in work, it's vital to blend fun and friendship with hard work. Working well together and having a laugh from time to time means we are well poised to work well for our clients.
What do you like about working here?
It might sound like a cliché – but no two days are the same. So what I enjoy on a Monday is different from what I enjoy on a Friday (and that's not just the promise of the weekend and a long lie!). Variety keeps me on my toes, every client is different and challenges me to really flex my business acumen and think about what works for them. There's no one size fits all approach here. I like coming to work every day knowing my skills and enthusiasm are appreciated and rewarded – we're a young company so there's no room for complacency and that really appeals to me. I am very driven, I want to deliver for the business and I want to grow my career and working here gives me the prospect of both. Day to day, whether its an interiors company, a freight business or a recycling enterprise – I learn something from every client interaction and I go home tired but energised by a great day at work.
What motivates you professionally?
I'll be really honest here and say my family. I'm very fortunate to have all the inspiration and motivation I need when I talk to my school-age daughter! She's great for a pep-talk and as anyone with young children will tell you, their energy is boundless and their humour unmatched. In the office, I'm motivated by a supportive company who value me as an employee and offer me opportunities to develop and grow as the business grows. And if ever I have a tough day at work – which everyone has from time to time – there's nothing like a quick duet with my daughter and some 'Little Mix' to remind me not to take my self too seriously!
What do you like to do outside work?
Despite living in Glasgow for 20 years – I'm a country boy at heart, having grown up in rural Northern Ireland. I love horses, all equestrian sports and the great outdoors. A round of golf or a brisk walk in the mountains when I am 'back home' in rural County Down is enough to recalibrate and keep everything in perspective. The age my daughter is at means I am also a 'regular' on the 'Soft Play birthday party circuit'. As most parents will tell you – many a Saturday is spent at the side of the ball-pool sipping a Fruit Shoot! I wouldn't have it any other way!
What was the first album you bought?
Michael Jackson's 'Thriller'. Still a classic. And don't get me started on those dance moves…let's just say I could give Little Mix a run for their money.